Testimonials
Centaur Biomechanics prides itself on delivering an extremely high standard of work to all clients. Here you can read clients' experiences. Also we have displayed some of the posts we receive via social networks. Please search "Centaur Biomechanics" on Face Book, on the British Dressage Forum or on the Horse and Hound Forum.
Horse and Hound - Sonya Richardson
Jennifer Messer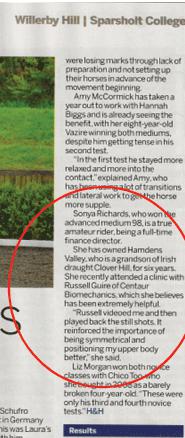 Hello Russell
I attended your rider analysis sessions at the Arrow riding centre a couple of weeks ago with my horse Leo, and was asked to give some feedback:
"I really enjoyed the session and felt a big difference in the horse as well as myself. I have been thinking about all of the changes that we made during the session and have been applying them at home when I'm schooling. I found the information and instruction given clear and logical. Being able to instantly see the difference in horse and rider on screen and in slow motion was brilliant and I would love the opportunity to have another session again in the future."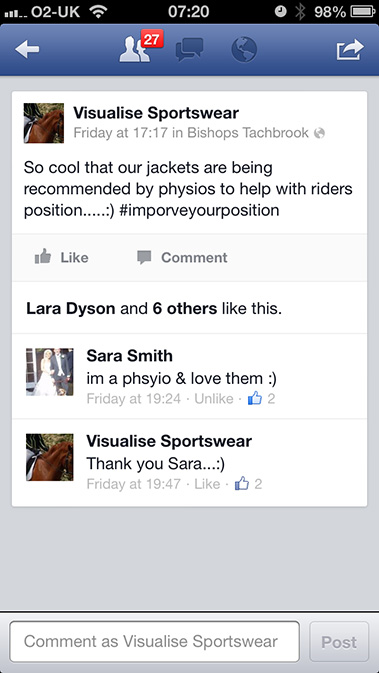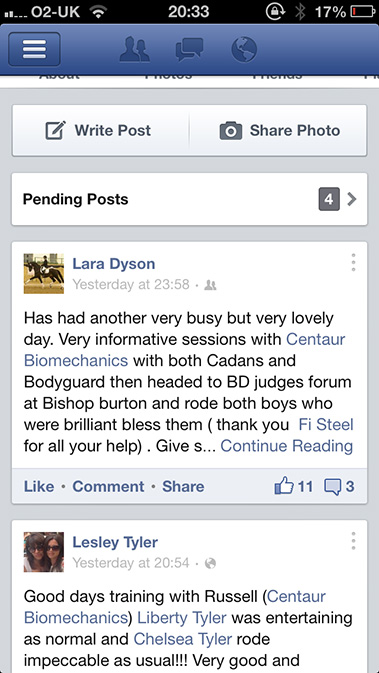 Vanessa Fairfax of Fairfax Saddles Ltd
"I have worked extensively with Centaur Biomechanics during the testing and development of products designed to improve the horse's performance. It's a great way of getting the horse's "opinion" on a new product, as it allows you to assess the differences in their way of going during each step of product design"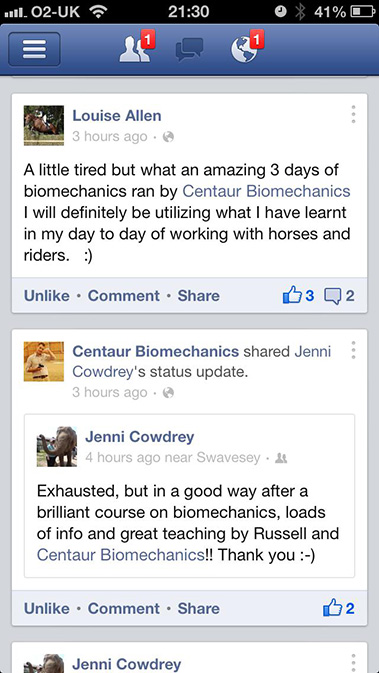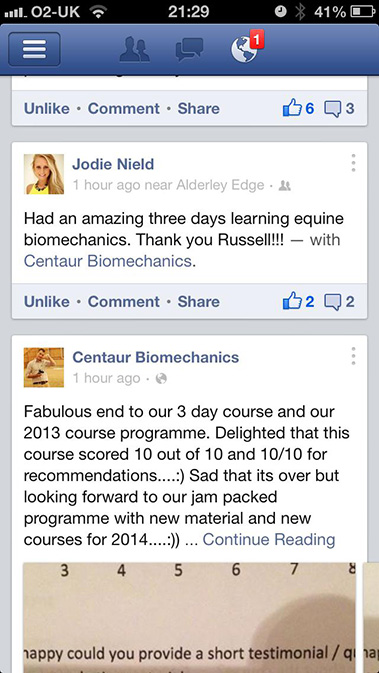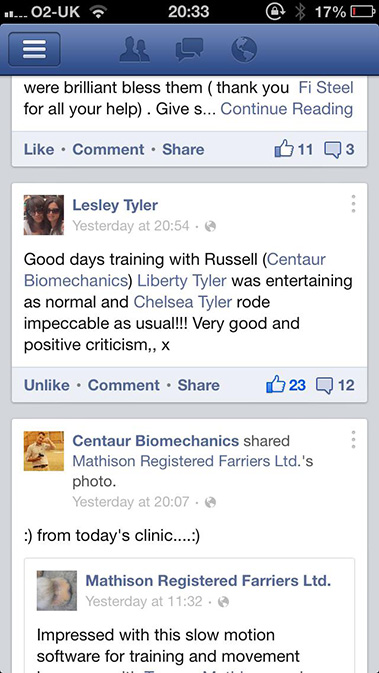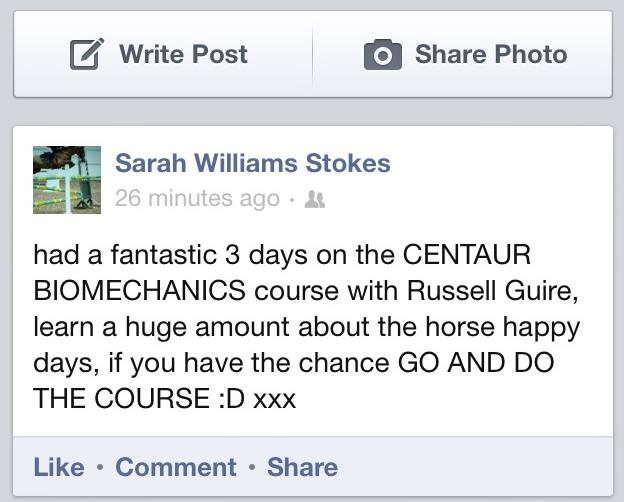 Biomechanics Course - October 2012 Overall Rating 9.45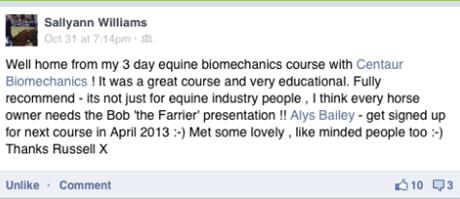 Hayley Colwell & ZIDAANE winner of the Centaur Biomechanics Prelim championship.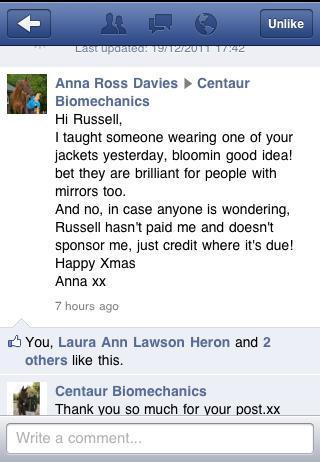 The position perfect jacket is a simple but fantastic idea that enables both trainer and rider to highlight any subtle body imbalances. Having worn the jacket my trainer pointed out that my left shoulder is always slightly lower than my right, this is due to a broken collar bone sustained 2 yrs ago, I was unaware that it was affecting my position so much but thanks to the position perfect jacket I am now working to correct this problem.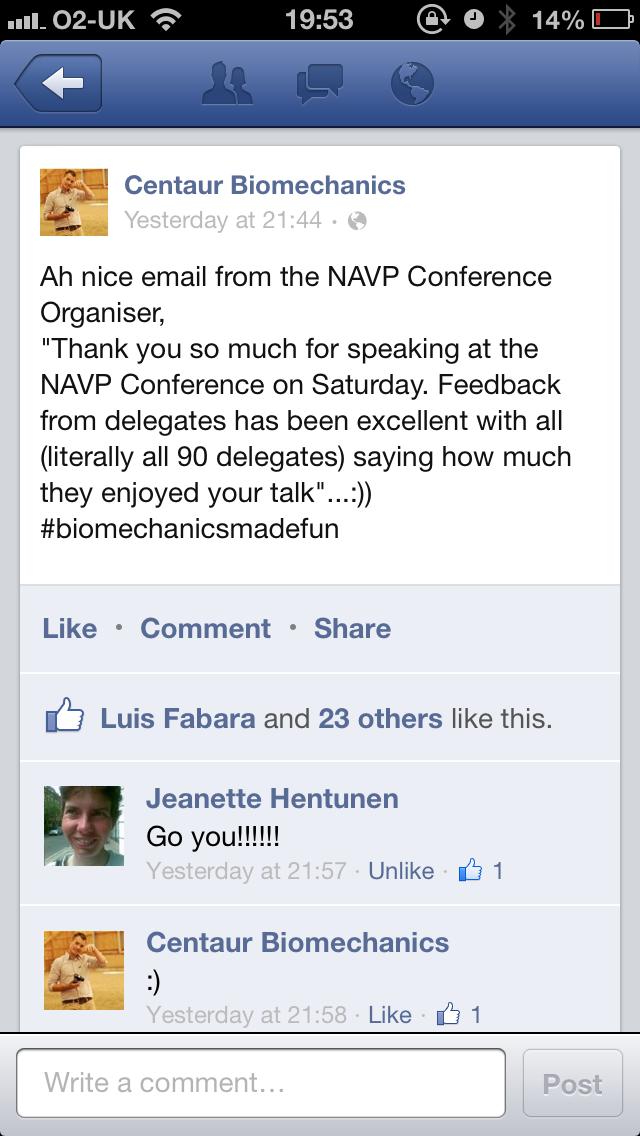 Dear Sharon and Russell
Thank you so much for the speedy dispatch of my jacket. So sorry Sharon I interrupted your shopping!!!!
What a revelation it has been wearing it for all my lessons and hacking really makes me sit up and concentrate more on my position
Wore it on my recent lesson with trainer who was aware of their existence but never seen one before. Well impressed and I have to say spoke very highly of Russell.
Have a great Christmas with continued success in 2012
Hoping you will visit us again at The Priory, perhaps through Invicta RC which I know was so well received and as a committee member I will be pushing for especially as my horses are
based there.
Very Best Wishes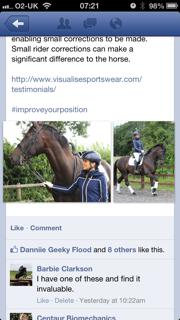 Overall rating 9.1
A welcoming, friendly atmosphere from all, Russell delivered course very well.
Very informative course learnt a lot by looking at footage of the horses which slowed down their movement.
Fantastic and Informative course, spoken in plain English making it easy to understand. The demonstrations and practical were fantastic.
A fascinating course giving an insightful look into mechanics, lameness and performance.
Excellent subject knowledge and it was good to get different ideas and knowledge updated. Also good to meet others on the course.
Russell's experience and wealth of knowledge is extensive and very insightful. The potential of this technology is very exciting.
A highly recommended course. Well presented, interesting and thought provoking.
Very informative about how horses and the science can help us manage our horses An amazing course, really useful to riders, practitioners and trainers.

Hi Russell
Thanks for for two very informative and useful mornings last week. The feedback was very positive and hopefully they will all have taken something home!!!
Sue Brennan - Post Winter National Championships
Hi Russell,
"Thank you so much for your input with Esther and Uno Diamond - really didn't expect the Centaur Biomechanics day to contribute to such an extent that they went on to be the BD Novice Restricted Freestyle Champions at the Winter Championships!"
Penny - VICTA Riding Club
Hi Russell,
So sorry I didn't pick this up before, but am SO pleased with today. Everyone was delighted with their session and all want to book again, so a huge Thank You.
How you manage to teach so many sessions in a day, and the last as good as the first, is amazing. I'll look at the Riding Club calendar and see when we can fix the next date.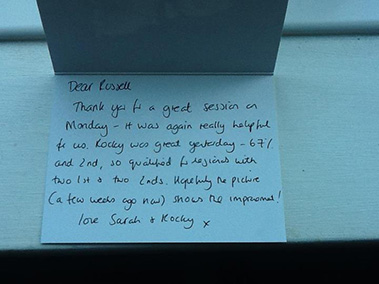 Nikki Alexander - Position Perfect
Hi Russell,
Many thanks for your e-mail
Your PP jacket has been quite useful. I put it on a few weeks ago and explained to my instructor what it was all about. He said that it looked smart and he assumed that the stripes were "go faster" stripes!!! I explained that they were there to allow him to see how I was sitting and I had already found them useful when riding in the school and looking at my position in the mirrors.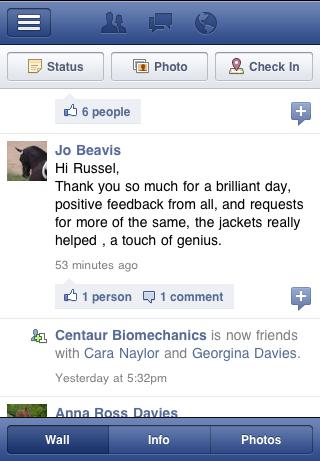 I had another lesson with him and it was apparent that I needed to turn my body more to the left in left lead canter. I have a tendency for my body position to turn slightly to the right and this was confirmed when I came down to see you and the osteopath at Hartpury last week.
My instructor then said to me that he thought the jacket was a good idea. He was able to see my position more clearly and to make sure that he could see the stripes down the front in the same way, when I was on right lead canter and then on left lead. The stripes allowed him to assess my position more easily and to see how it needed to be corrected.
This will help my riding and in turn will stop me hindering the horse too much.
Sue Brennan - www.brennan-equestrian.co.uk
Hi Russell,
Thank you so much for a really great day yesterday. The weather was lovely but I was quite cold by the end of the day as I'm sure you were.
Everyone without exception thoroughly enjoyed their session with you and felt immediate benefit from the exercises you worked through with them. All of them have asked me when the next one is going to be, which can only be good for all of us. Perhaps as we discussed we could look at a date in May and hope that we get such fine weather as yesterday.
Thank you so much for today it was really useful. My farrier could never have accepted such radical extensions without having seen evidence of the effect they were having.
I wish I had done this a year ago.
Don't forget to let me know if you are in the Devon area and we could fix up a rider analysis.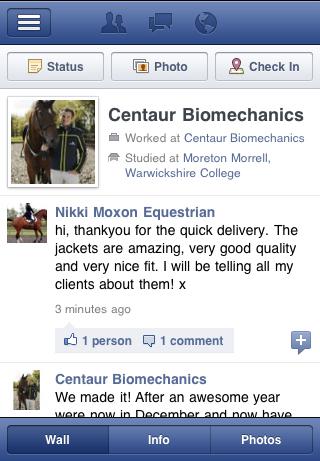 Dear Russell
Thank you so much for travelling specially out to me after your Baschurch Clinic. After meeting you at Active Riders Dressage Camp and seeing myself on video, this brought home to me just how bad my position was. I have never had a teacher who specifically targeted your position on the horse and it has helped explain many of the problems I had with the way Annie was going. Your lesson has been inspirational in helping me to change and become a more effective rider. Many thanks and I look forward to our next session.
Barbra Delalouight, Ireland
Glad you got back safely; feedback has been excellent and yes we'd definitely like to have you back........Take it as a definite booking and I will let everyone know. You will be pleased to know that Josephine and Aniko especially benefited from your visit; when Markus our German trainer was over last weekend he was more than pleased with their progress and they were able to make real progress. Aniko went as far as shoulder in and counter canter; Jo rode a totally relaxed test on Blue!
Jane Rothwell
Hi Russell
This is just wonderful I have now created a separate folder for my lessons with you on my Mac! You are very inspirational and I really appreciate you travelling up to us. I hope injuries to both horses and riders are on the mend and you are looking forward to the summer season.
The combined training competitions are starting next month and I am almost feeling like competing again.
I have done a couple of big hacks up the hills and was pleasantly surprised to find out how fit my horse was he certainly appears to have put on more muscle than I realised.
All the best and hope to see you later in the year
Jane [+Snowman!]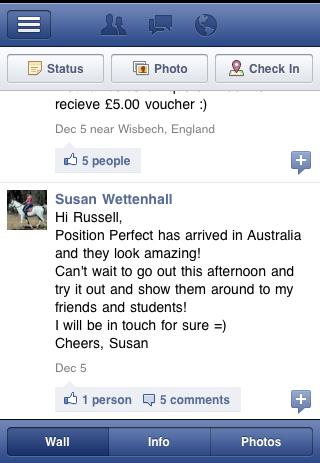 I was riding with one stirrup leather a hole longer than the other as I felt like I was slipping to one side. Russell has been helping me for 3 months; and after each session, has given me exercises to do to improve my position. Now, I am sitting more even in the saddle, I have a deeper seat and have become more balanced with the horse. I learnt a lot from these sessions and they have really helped my riding. The improvements I have made have reflected in my results which is really pleasing.
Thanks for all your help
Caroline Rake
Dear Russell,
Thank you for your extremely helpful session on Friday. I have been practising ever since!
Peter Bridle
Dear Russell
Thoroughly enjoyed today, thank you. Just what I needed and please can I have some more. I have never had any teacher that really has worked on sorting out my basic position and I know the horse works so much better when I am sitting better. Excellent
Russell Guire is an inspirational teacher. For someone so young he has patience in abundance, so much expert knowledge and knows how to get the very best out of rider and horse. When it all goes right and rider and horse achieve what was desired of them, his enthusiastic praise feels like you have just scored a 10! At the end of each lesson I feel that I have learned a great deal and that I may actually be able to ride after all.
He is someone who obviously enjoys teaching and has the ability to change your riding in one lesson, even one old man of 65 who creaks and groans a bit!!
All of this and the bonus is that he arrives at least 15 mins early!! He does not think that his time is more important than yours as so many "divas" of the equestrian world do.
I can commend him to anyone who wants to improve their riding and their horse's way of going.
Peter Bridle (surname is not an April fools joke, it's real!!)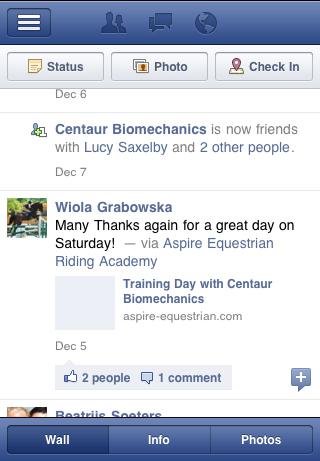 As a rider on the Para-Dressage World Class Potential Squad I have been lucky enough to benefit from Russell's performance analysis at many of our squad sessions. The instant feedback allows you to see if what you felt truly represented what was happening, an area that I feel has been vital in developing both myself and my horse.
Rachel Reed – Rider Analysis and Clinic Organiser – November 2010
"The first postural analysis clinic in October gave me the opportunity to see exactly how I ride and how I could quickly make some improvements to my posture and in turn my horse's way of going. Russell quickly identified that I lift myself out of the saddle with my right hip and I twist my right shoulder, particularly on the right rein. My left side is much weaker and sometimes doesn't do much at all. How my poor horse understood my aids before this clinic, I have to wonder! However, after seeing all of this in slow motion and spending 15 minutes with Russell working on specific areas, my position improved, and my horse was going better too!
Since then I've been for physio and I've been doing some exercises to help improve the hip balance and strength of my left hip. 7 weeks on from the first clinic we held a clinic at our own yard as I had been so impressed I wanted all my friends and peers to experience it too. And the improvement was noticeable; right from the first few steps Russell could tell I had been working hard on the problems he'd identified and although not perfect, I am much more aware of my posture and can correct it myself now without having to think about it too much.
There were 14 on this latest clinic and everyone thoroughly enjoyed it and felt they got so much from it that we have booked for Russell to come back in March for another review. In only a few days word has got out - we've got 18 places reserved for March already!
We then plan to get Russell two to three times per year, to continue to help us and our horses continue to improve and work on new challenges that improvement might bring with it.
The clinics are extremely useful - it's amazing how much you can learn about you and your horse in 30 minutes and how much improvement you can gain; but it doesn't end there - you have to work at it each time you ride.
Russell is a pleasure to work with and was very sensitive to my rather unsettled horse; he uses visualisation techniques to help you understand what you can do to improve - this is invaluable for when you are back at home with no Russell and no video camera!
I would recommend this clinic to anyone from any discipline and for any level of horse and rider, from advanced to novice riders and from eventers to pleasure horses."
Penny Gills - ISIS Riding Group
Regarding the rider analysis video sessions organised at the Unicorn this summer. I found my session very beneficial, even though seeing myself on video was very uncomfortable at times! However, seeing is believing and it has had a lasting effect. Since then, I still check when schooling, that I haven't "collapsed" and before this session I wasn't even aware of doing so. I think that every level of rider could benefit from this type of visual help.
RE: Centaur Biomechanics - Rider analysis AS Posted on British Dressage
Re previous post - just to let you know I went on the Rider Analysis clinic yesterday and was really pleased. This was they same type as the one that Custardsmum went on (own horse,) and the difference from start to finish was quite incredible, both in my position and my young horse's way of going. I have always struggled to keep my legs still and could see from the video that I was tipping forward too much, but by the end I was sitting upright, shoulders, hips and heels all in line, my legs were much quieter and I actually looked quite elegant! Russell kept it very simple and didn't bombard me with information and I really feel that I will be able to put into practice what he explained quite easily. Being able to actually compare before and after was also very useful. Was very impressed with the whole thing and would highly recommend.
Kelly Tucker Bermuda
My daughter Marlena Tucker went to England last September 2010 to attend Warwickshire College in Moreton Morrell. I sent her horse abroad with her so that she could continue on with her riding.
My daughter wanted to move to a private barn, so I went on the internet searching for private barns near her college. I stumbled on to the Centaur website just by chance which was a short walk away from the college. My daughter went and met with Russell Guire one of the owners and she fell in love with the barn and was happy with the owners. So we moved her horse to Centaur Training and Livery and have never looked back, this has been the best decision we have ever made.
The difference this move has made in my daughter's life and her horses life and wellbeing was beyond my imagination. The owners Russell and Jonathan coach and train my daughter and her horse (Star Quality AKA Skye). These are people who love what they do and care about the health and welfare of the horse and rider.
Our horse was always getting sick as soon as he arrived at Centaur they jumped in to action and worked on finding out what was wrong with him and finding a solution to the problem. To date Skye is in great shape and my daughter is so happy and riding very well. She also has the opportunity to do clinics with top riders and trainers.
I used to be concerned with my daughter leaving her horse in England when she was on school breaks but not anymore, I feel so confident leaving him in the very capable hands of Russell and Jonathan because I know they have the passion for their job and love what they do and put the horse's health first. So in short if you are looking for livery for your horse or coaching for you son / daughter, with people who love what they do. Then look no further because Centaur Training and Livery is the place for you.
Debbie Beasant- Gainfiled Training and Livery, Oxford
Liz Launder and Russell Guire brought the Centaur Biomechanics equipment to Gainfield in July and a revealing day it was too! Nine of my regular Training Clients were filmed and Liz put together a detailed profile of each riders ` posture and riding weaknesses. As their trainer it was immensely helpful to see the root cause of some of the problems they were experiencing in the saddle. It has been fascinating to see the riders return with a clear understanding of how to improve their posture and from this new position find greater balance- the horses have subsequently shown improvement too.
Nick Ransford (Novice dressage hopeful)
Hmmm. where to start?… perhaps with my horse. With a busy full time job in Birmingham, I need to know that he is being looked after as well as if I did it myself. Having been at several yards before, I can truly say that at Centaur's home, Little Morrell stables, I could not wish for better. The horses are cared for to the highest of standards by a team who are very conscientious and professional, particularly when problems arise as they inevitably do with horses.
For us humans, the atmosphere on the yard is like being in a happy family. Russell is very well organised and always willing to go the extra mile for you, Louise makes a bond with all the horses and is not fazed by anything, and Jonathan is a skilful trainer who knows how to really get the horses moving well. Our lessons have many "wow" moments and lots of laughs!
As for me, an "oldie" and relative newcomer to dressage, they have helped me develop my riding far beyond anything I'd previously thought possible. Perhaps you can tell, they have made me both a fan and friend.
Last year I purchased a young horse to bring on whilst I finished my degree at Birmingham and was lucky enough to be based at Centaur Biomechanics training & livery yard. My horse settled in well immediately and benefited from the friendly atmosphere and professional care that he received leaving me confident that he would be well looked after even when I couldn't be around. Jonathan's skill as an experienced dressage rider kept both me and my horse in line and it was comforting knowing that support was there on a daily basis if required. Their expertise and knowledge covers all areas of riding and horse care and their love of horses is evident in everything they do. There was always a friendly vibe amongst staff and liveries making it an enjoyable place to be with many laughs you always felt at home. It was a fantastic experience and I can't recommend them enough to future clients.
Jane Walker Active Rider 2010
Hello Russ, further to your recent attendance at our BD NW and our MKEC horse camp. I wanted to make contact with you about your feedback, which was excellent. Centaur Biomechanics has made these two camps a great success and the business and the service you offer really makes a huge difference to our riders and horses.
Further to your feedback I would like to invite you to return next year – I look forward to working with you again in making our events so memorable.
Best wishes, Jane Walker
In January of 2011, I officially became a member of the Centaur Biomechanics family. I refer to them as family because that's exactly what they are and how everyone makes you feel- from the livery owners to the staff. I arrived with my horse to the UK in September of 2010, to begin my equine studies at Moreton Morrell Centre. Being new to the UK, and its riding world- I was overwhelmed with the stress of being solely independent at only 17. My horse is only young and it became evident we both needed guidance and training if we were going to consider competing in this country.
Upon stumbling across Centaur, as if by accident, we were able to receive that guidance and training. After meeting with Russell and Jonathan, as well as touring around the yard, I was able to decide before I even left, that this was the yard I wanted to keep my horse at. I was sure that it was made for me. They are dedicated to what they do, not because it is a career, but because they love it. If you are a horse owner, particularly of a horse with special needs (for instance mine has a tendency to colic), you can appreciate how hard it is to come across that care and attention. They cater as best they can to whatever problems you or your horse may have and they often organize clinics which specify certain areas of need or importance.
Living overseas, it was difficult for me to leave my horse and trust that he would be looked after and given the necessary attention he needed. However, now that he has made a number of friends and is under the careful watch of Centaur, I have no doubts he will remain a happy and healthy horse while I am away. Russell will often send e-mails just to say hello and let me know that my horse is 'doing fab'.
They genuinely have both the horse and rider's best interests at heart. I am certain that my riding has come quite the way since my lessons with Russell and Jonathan have commenced and I would not hesitate to recommend them to anyone. If you're looking for a place to surround yourself with people who love what they do and are committed to providing the best quality livery they can-Centaur Biomechanics is the place for you.
Vikki Underwood, World Class Development Manager
"This technology has proved extremely useful in all sorts of sports and we hope it will similarly help with the equestrian Olympic and Paralympic disciplines. We want riders and trainers to be able to identify various areas, improve performance and ultimately get better results."
Ruth Edge, World Class Event Rider
"This technology is really useful: it highlights your weaknesses, and then you can improve on them. You can also keep a record and look back at past recordings and see what improvements there are."
Henry Boswell, International Dressage Rider
"The performance analysis has helped me enormously and I use it regularly on my horses and myself. It is useful to watch yourself riding and you can assess your own weaknesses and see posture problems. I keep the results of the screenings and it means I can refer back with my vet, trainer or farrier if the need arises or we want to see how a particular issue in either horse or rider is developing."
Tina Goosen, World Class Development Programme Discipline Co-ordinator for Showjumping.
"Centaur Biomechanics comes and videos all our show jumping squad sessions and the riders find it very useful to have that feedback and reference. I am sure it helps to improve performance."
David Hamer, World Class Development Programme Discipline Co-ordinator for Para Dressage
"Russell from Centaur Biomechanics has provided a high quality level of performance analysis for us. We have used various systems and from the riders and coaches point of view getting extrinsic feedback from the video analysis has been extremely beneficial. It has made a real difference to performance and all our riders have really benefited from it."
Yogi Breisner, World Class Performance and Team GB Manager, British Eventing.
"We have used performance analysis to good effect both with our developing riders and our World Class Performance riders. Centaur Biomechanics is very good, very uncomplicated and does a very professional job. It is very helpful when we are looking at riding technique and when it comes to the execution of dressage tests and show jumping rounds."
Richard Davison, International Dressage Rider.
"I have been involved with this since its inception. I first heard about gait analysis in a World Class meeting some years ago and it immediately appealed to me. There is no point training a high quality competition horse and unknowingly putting unnecessary stress and strain on its joints only to find that you have shortened the competing life of your horse. Comfortable horses perform at their best. I have found it a very useful tool in horse training and management."
Jane Walker Active Rider Camps.
"The technology and enthusiasm in what Centaur brought to the camp was excellent, all my riders enjoyed themselves and found the analysis sessions most useful"
Lindsey Robshaw
Russell
It was good to meet you again last Saturday and what a turn out! Many thanks for the images they will act as a good reminder so I'll post them on the tack room wall! The Postural Clinic held at Thornton House Farm on 20 November 2010 has been hailed a great success. News travels fast and both Rachel and myself have already been approached from other riders enquiring about the next one in March 2011. Having attended my first Biomechanics Clinic at Willerby at the beginning of September, I was keen to recommend you to others, how valuable I'd found it and subsequently how much my position had improved........suffice to say my trainer plus my horse have both noticed a big difference! The feedback Rachel and I have received since last Saturday has been extremely positive; everyone found it immensely helpful and many commented on how much they enjoyed your teaching methods - tips which are easy to remember! Suffice to say on behalf of everyone, a big thank you and we're already looking forward to the next one.
An Insurance Companies View
David Ashby is bloodstock underwriter for Amlin Plus, the specialist bloodstock arm of Amlin plc, one of the leading independent Lloyd's insurance groups.
"I can see significant benefits to both the insured and the insurer from an annual review, and Amlin Plus would certainly reflect this by a reduction in premium," he says. "Some of the major issues with loss of use and veterinary fee insurance, and hence the reason for higher premiums, are the very high costs involved in diagnostic work for subtle or hard-to-find lameness. I am hopeful that an assessment could help to significantly reduce these costs and thus horse owners' insurance premiums as well. Amlin Plus is committed to supporting ideas that reduce costs and give its clients a fuller and better understanding of their horses' capabilities and potential, given that the examination costs are reasonable. Amlin Plus is positioned at the high-value end of the market, and it is likely that we will make an annual review a no-cost benefit of our policy. That said, I believe assessment should see a reduction of premiums to all horse owners who use the system, as a credit for their good husbandry and horsemanship."
John McEwen BVMS MRCVS, Director of Equine Sports Science, British Equestrian Federation
"The Equinalysis/Quintic System is the perfect example of science and research working in close partnership with the practitioners (those that are regularly in contact with horses, riders and owners). The system has proven itself to be a very useful aid in both the monitoring and improvement of performance within the World Class Programme."
Will Connell, BEF Performance Director
"The concept of Gait Analysis in sports horse practice, appeals to me as the first readily available and easily understood tool for the clinicians appraisal of the efficiency of their diagnostic techniques and treatments."