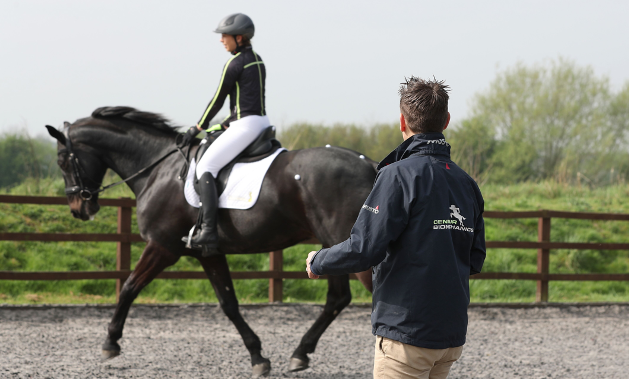 Centaur Biomechanics - Rider Biomechanics
COVID-19 Rider Biomechanics FAQ
COVID-19 Cenatur Biomechanics Social Distancing
Become a better rider, improve your position and improve your performance with a Centaur Biomechanics 1 to 1 rider biomechanics session. These sessions are evidence based using state of the art technology. The session will focus on evaluating the horse and rider and then using specific exercises, improve the rider's position and the horse's way of going. Correct rider biomechanics (position) is essential to optimise the horse's way of going and consequently, horse and rider performance.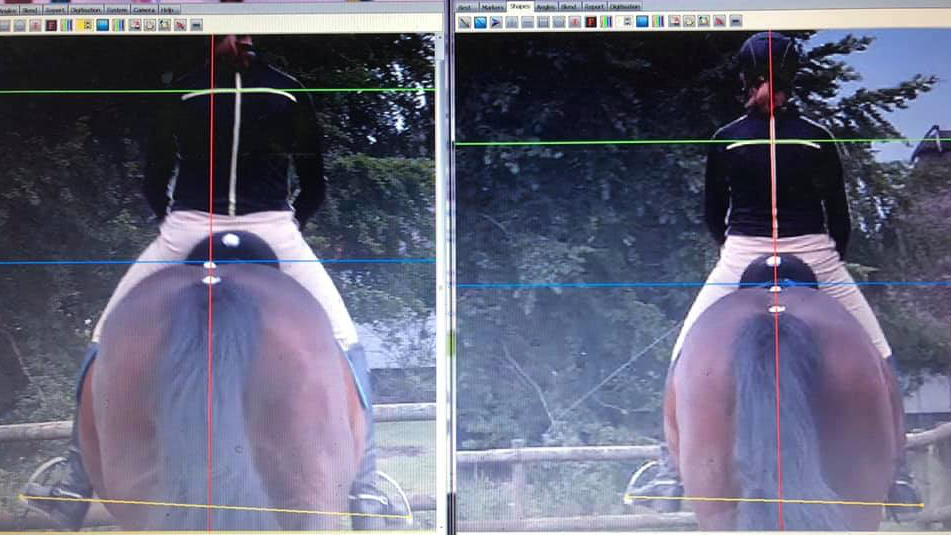 All biomechanics sessions are performed by Dr. Russell MacKechnie-Guire.
Founder of Centaur Biomechanics
Provider of biomechanical analysis to four National Federations, High Performance teams
Published over thirty-five peer reviewed scientific papers on horse-saddle-rider interaction
Written almost 100 articles on horse and rider biomechanics
Featured on the BBC, FEI TV and Radio
BSc honours Degree in Equine and Human Sports Science and PhD in biomechanics (horse & rider)
Sought after presenter, presenting his research on horse, saddle and rider interaction all over the world
Equestrian coach and rider
Fully insured, First Aid and CRB checked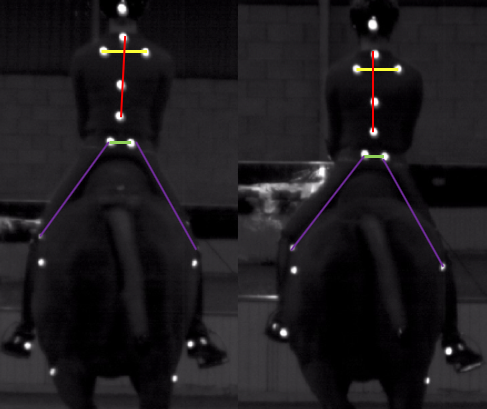 How does the Centaur Rider Biomechanics session work:
For the Centaur Rider Biomechanics sessions, riders will be asked to wear a Visualise Training Jacket, at the same time markers will be placed on the horse and rider. Both the jackets and markers are used to quantify the rider's position. Riders will then be asked to ride through a standardised exercise test at which point footage will be taken using our high-speed cameras.

Following this, the various movements from the exercise test will be analysed and discussed with the rider whilst in the arena. Any movement asymmetries observed will be recorded on a user-friendly report which the riders can take home and share with their home team (coach. Physio, therapist etc.).
Throughout the second part of the session, riders will go through a series of exercises addressing and improving any of the observed movement asymmetries. With the use of instant video feedback and coaching delivered biomechanical cues riders will improve their biomechanics which will have an influential effect on the horses way of going. Riders leave with a written feedback from detailing the sessions findings and exercises.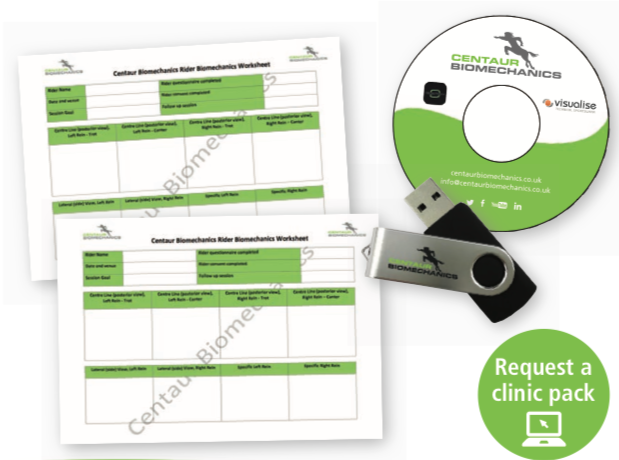 These sessions are open to riders of all levels from riding club through to Olympic/Paralympic level. For new riders, riders will go through our standardised assessment and for returning riders sessions can be tailored to more complex movements, lateral work, half pass, pirouettes and jumping etc.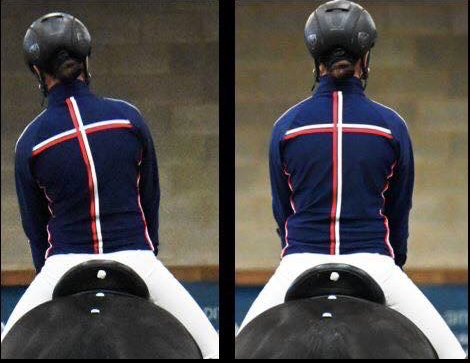 Rider Biomechanics Clinics:
Centaur Biomechanics Rider Biomechanics Clinics run throughout the UK, kindly hosted by multiple horse owners. Generally, the clinicals are open to all – please look at the dates page for clinic dates and locations. If you are interested in hosting a clinic please email sharon@centaurbiomechanics.co.uk for a clinic pack.
Please see our FAQ which helps answer some of the questions associated with hosting a clinic.
Rider Biomechanics Clinics
 Date
Venue 

Cost 

Excl VAT

To Book
Rider Analysis Clinic (Download Course Guide)
12/06/2022
Allington Equine
Please email sharon@centaurbiomechanics.co.uk
Rider Analysis Clinic (Download Course Guide)
17-18/06/2022
Wye Valley Equestrian
Please email sharon@centaurbiomechanics.co.uk
Rider Analysis Clinic (Download Course Guide)
19/06/2022
YORK
Please email sharon@centaurbiomechanics.co.uk
Rider Analysis (Download Course Guide)
23/06/2022
Valley View Livery
Please email sharon@centaurbiomechanics.co.uk
Rider Analysis (Download Course Guide)
25/06/2022
Kent
Please email Sharon@centaurbiomechanics.co.uk
Rider Analysis Clinic (Download Course Guide)
4/07/2022
Norton Livery
Please email sharon@centaurbiomechanics.co.uk
Rider Analysis Clinic (Download Course Guide)
17/07/2022
Wotton under Edge G12 7PH
Please email sharon@centaurbiomechanics.co.uk
Rider Analysis Clinic (Download Course Guide)
20/07/2022
Kemp Stables GU30 7RY
Please email sharon@centaurbiomechanics.co.uk
Rider Analysis Clinic (Download Course Guide)
24/07/2022
Appleby Farm, Kent
Please email sharon@centaurbiomechanics.co.uk
Rider Analysis Clinic (Download Course Guide)
27-28/07/2022
Hexham, Northumberland
Please email sharon@centaurbiomechanics.co.uk
Rider Analysis Clinic (Download Course Guide)
30/07/2022
Stourport, Dy13 9rb
Please email sharon@centaurbiomechanics.co.uk
Rider Analysis Clinic (Download Course Guide)
3/08/2022
Valley View Livery
Please email sharon@centaurbiomechanics.co.uk
Rider Analysis Clinic (Download Course Guide)
20/08/2022
Bournefield Animal Rehabilitation Centre, Bradfield, RG7 6AA
Please email sharon@centaurbiomechanics.co.uk
Rider Analysis Clinic (Download Course Guide)
21/08/2022
Appleby Farm, Kent
Please email sharon@centaurbiomechanics.co.uk
Rider Analysis Clinic (Download Course Guide)
27/08/2022
Limcomb Equestrian, Stourport, DY13 9RB
Please email Sharon@centaurbiomechanics.co.uk
Rider Analysis Clinic (Download Course Guide)
28/08/2022
TBA
Please email sharon@centaurbiomechanics.co.uk
Rider Analysis Clinic (Download Course Guide)
2/9/2022
Ivanhoe Equestrian
Please email sharon@centaurbiomechanics.co.uk
Rider Analysis Clinic (Download Course Guide)
4/09/2022
Brinkworth, Minety, SN16 9RL
Please email sharon@centaurbiomechanics.co.uk
Rider Analysis Clinic (Download Course Guide)
7/09/2022
Kemp Stables GU30 7RY
Please email sharon@centaurbiomechanics.co.uk
Rider Analysis Clinic (Download Course Guide)
18/09/2022
YORK
Please email sharon@centaurbiomechanics.co.uk
Rider Analysis Clinic (Download Course Guide)
24/09/2022
Wotton under Edge G12 7PH
Please email sharon@centaurbiomechanics.co.uk
Rider Analysis Clinic (Download Course Guide)
25/09/2022
Kent
Please email sharon@centaurbiomechanics.co.uk
Rider Analysis Clinic (Download Course Guide)
16/10/2022
Kent
Please email sharon@centaurbiomechanics.co.uk
Rider Analysis Clinic (Download Course Guide)
18/10/2022
TBA
Please email sharon@centaurbiomechanics.co.uk
Rider Analysis Clinic (Download Course Guide)
22-23/10/2022
Chelmsford, Essex
Please email sharon@centaurbiomechanics.co.uk
Rider Analysis Clinic (Download Course Guide)
2/11/2022
Norton Livery
Please email sharon@centaurbiomechanics.co.uk
Rider Analysis Clinic (Download Course Guide)
13/11/2022
Kent
Please email sharon@centaurbiomechanics.co.uk
Rider Analysis Clinic (Download Course Guide)
16/11/2022
Valley View Livery
Please email sharon@centaurbiomechanics.co.uk
Rider Analysis Clinic (Download Course Guide)
19/11/2022
Bournefield Animal Rehabilitation Centre, Bradfield, RG7 6AA
Please email sharon@centaurbiomechanics.co.uk
Rider Analysis Clinic (Download Course Guide)
27/11/2022
Wotton under Edge G12 7PH
Please email sharon@centaurbiomechanics.co.uk
Rider Analysis Clinic (Download Course Guide)
7/12/2022
Norton Livery
Please email sharon@centaurbiomechanics.co.uk