Centaur Biomechanics has been commissioned for many research projects from leading companies, covering a variety of topics related to horse and rider performance and soundness. A large proportion of Centaur's research has been based around saddle fit and design working closely with Mark Fisher, who operates the Pliance pressure mapping system for the Society of Master Saddlers and British Equestrian Federation. We have completed 73 projects working with various manufacturers to help adjust and improve saddle fit and help understand the relationship between saddle fit and horse's movement. In 2010 Centaur formed part of the research team behind the Fairfax Performance Girth, termed Team GB's Secret Weapon at the London 2012 games. As well as these projects Centaur has carried out studies looking at rider's position, surfaces, massage systems, studs and training aids.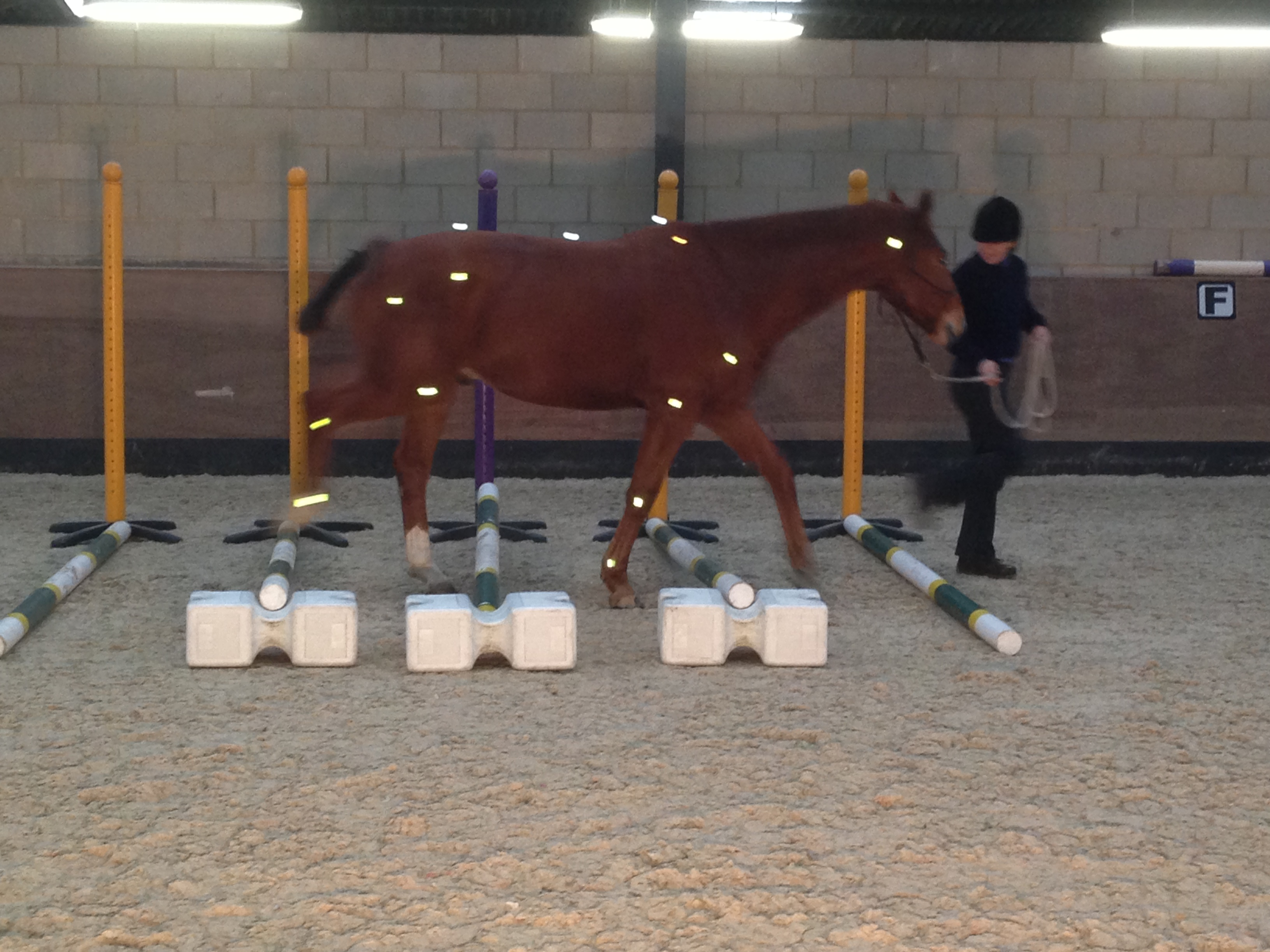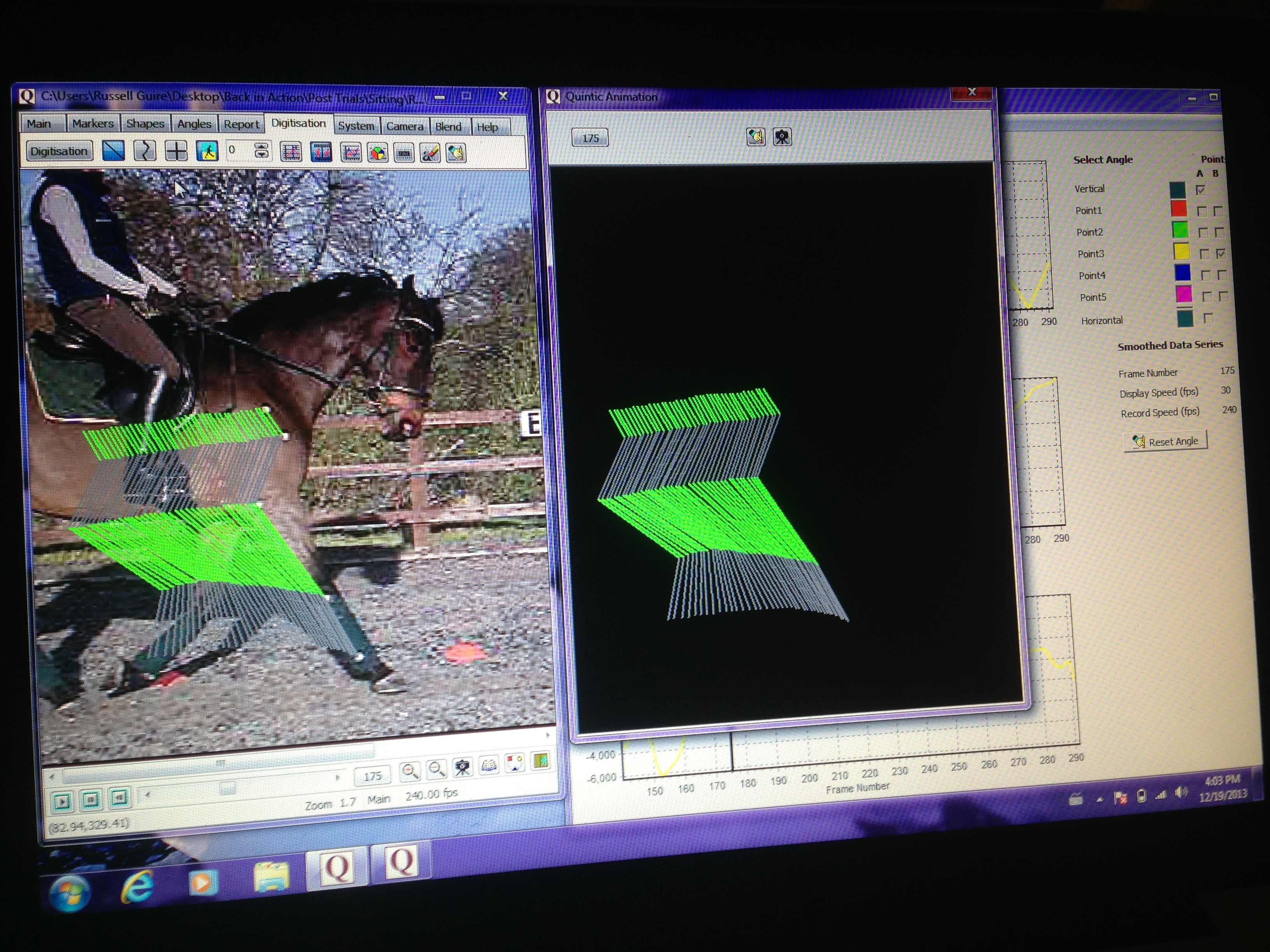 Centaur's research has become internationally respected with publications in Equine Veterinary Journal, poster and oral presentations at international equine conferences, as well as national magazines. The protocols, systems and practice we employ have been scientifically validated and approved. If you have a research idea or would like to scientifically test a product, please contact info@centaurbiomechanics.co.uk, where we will be happy to discuss, in confidence, your project details.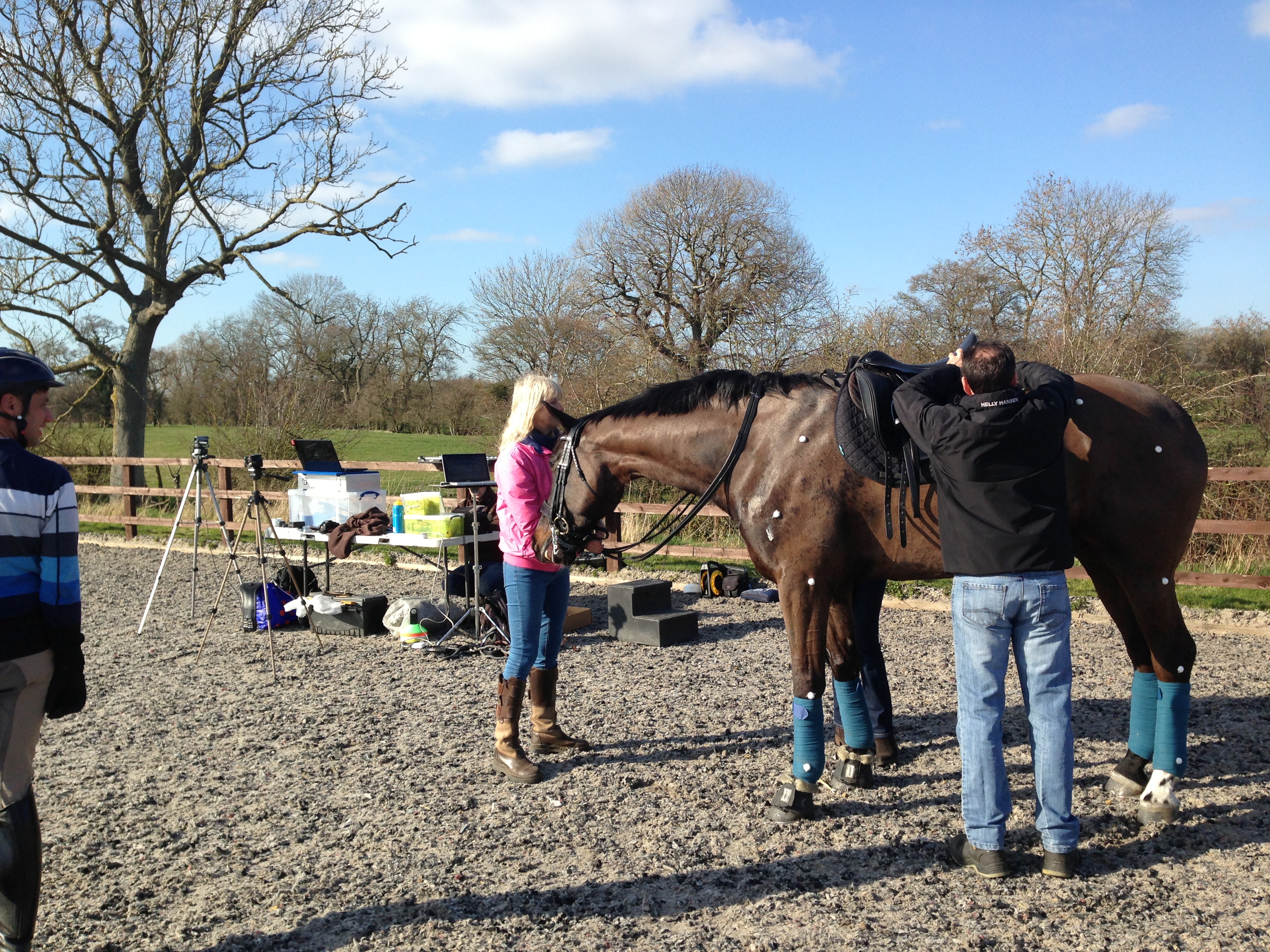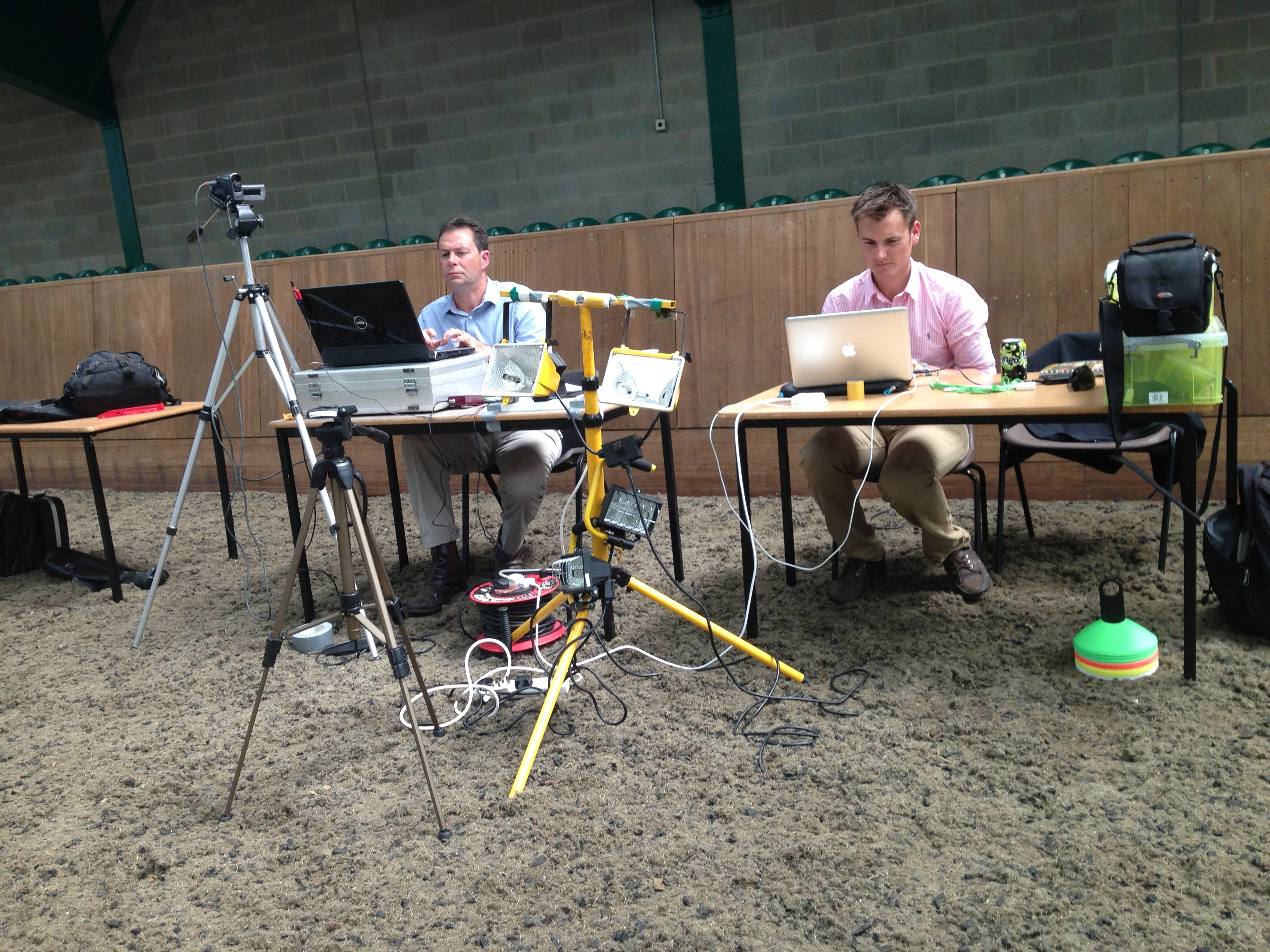 2017 Projects
Use of smart phone tecnology to detect rider movement patterns
Changes in thoraculumbar measurements during ridden work
The effect that saddle roll has on equine locmnotion when turning
The effect that saddle roll has on equine locmotion and rider biomechanics
Effect of 1/2 pads on equine locmotion
The effect of rein tension on horses when turning and in straight lines
The effect that grass, gel track and concrete surfaces have on equine movement, Bishop Burton College, Jess Spalding and R Guire
The effect that travelling has on joint mechanics
The effect of rider's position on equine movement pre and post massage
An investigation to look at the effect of one stud versus two studs when turning
The effect that saddle slippage in sound horses has on equine movement and rider position.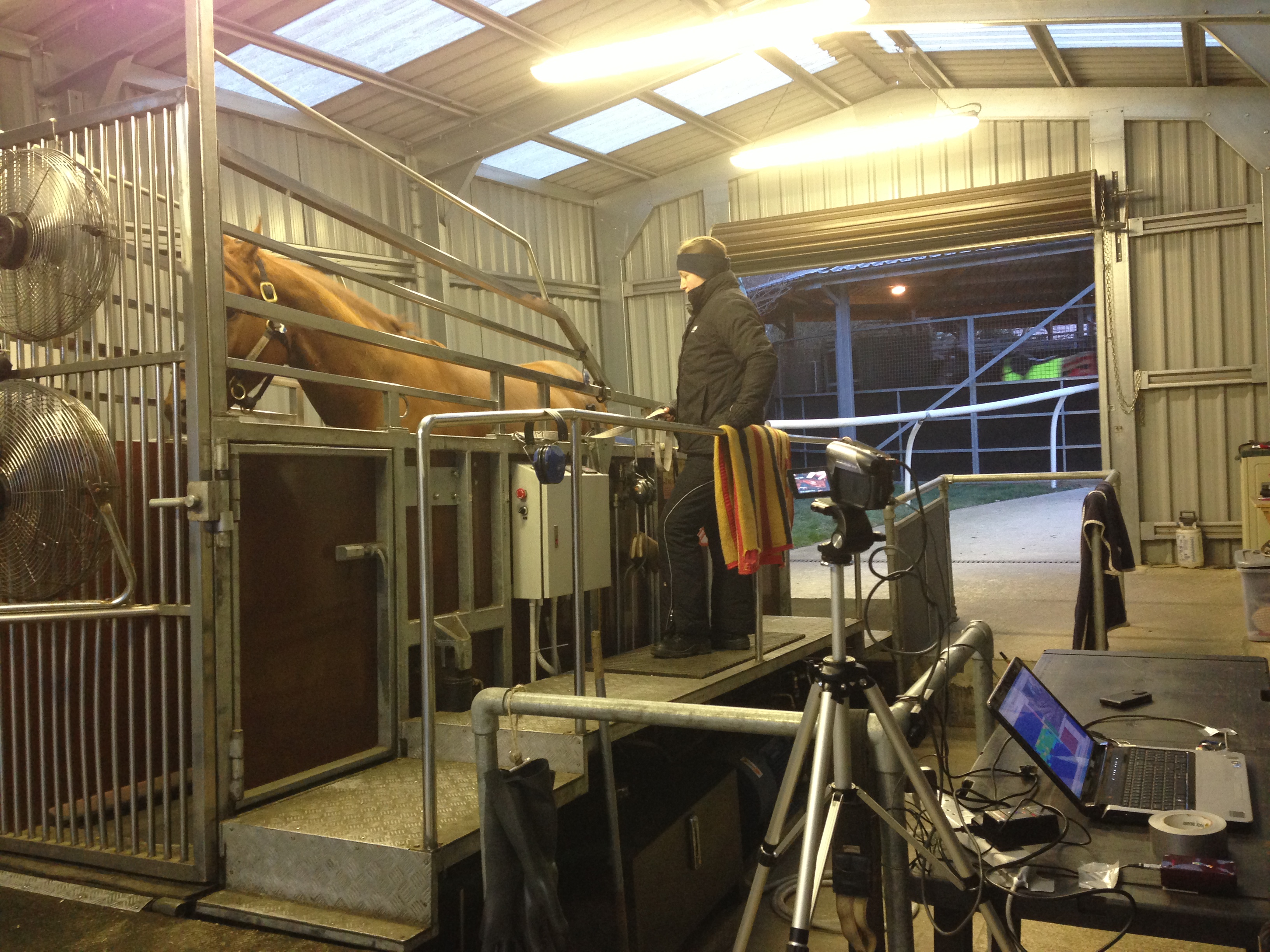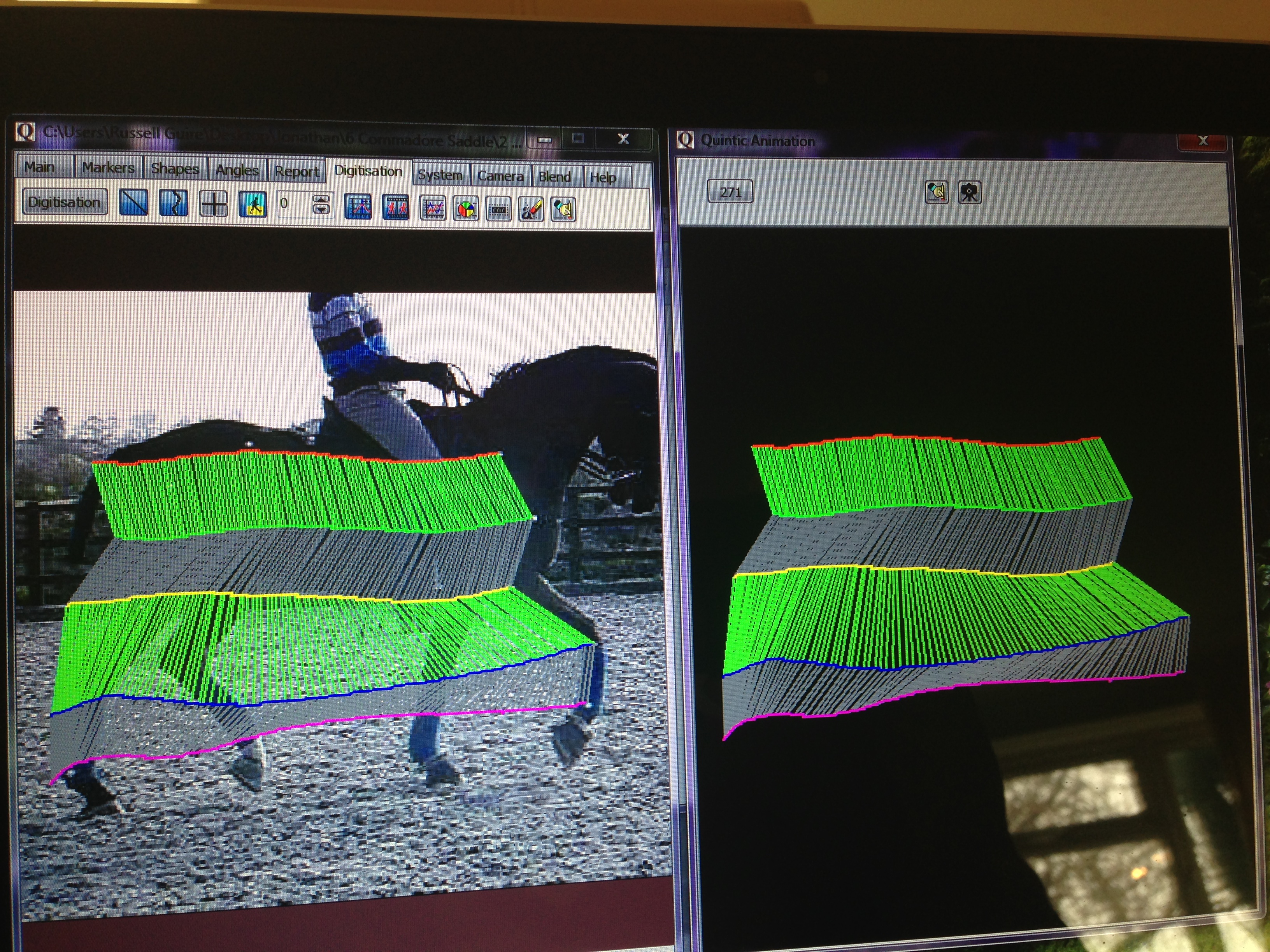 Completed Projects
Murray R., Guire R., Fisher M. and Fairfax V. (2013)

Girth pressure measurements reveal high peak pressures that can be avoided using an alternative girth design that also results in increased limb protraction and flexion in the swing phase. The Veterinary Journal 1, 92-97.

Murray R., Guire R., Fisher M. and Fairfax V. (2015)

A bridle designed to avoid peak pressure locations under the headpiece and noseband is associated with more uniform pressure and increased carpal and tarsal flexion, compared with the horse's usual bridle. Journal of Equine Veterinary Science 35, 947-955.

R. Guire, H. Mathie, M. Fisher and D Fisher. (2016)

Riders' perception of symmetrical pressure on their ischial tuberosities and rein contactwhilst sitting on a static object.

Pfau T and Guire R. (2016)

Automated detection of basic equestrian exercises based on smartphone accelerometer data.

Published Abstract - International Conference of Equine Locomotion

R. Guire, H. Mathie, M. Fisher and D Fisher. (2016)

Relationship between saddle and rider kinematics, horse locomotion and thoracolumbar pressures in non-lame horses before and after correction of asymmetric saddle position

Paper Under Review
The effect of a girth versus the Fairfax Performance Girth has on equine movement. Russell Guire, Team GBR and Fairfax Saddles. {completed} See Horse and Hound article "Team GB Secret Weapon" Girth Paper
High Speed Camera Capture 300 Frames Per Second - Utrecht University - November 2010
Peak saddle PSI and Fetlock Load, whilst jumping a 1.40m upright fence, Society of Master Saddlers and Russell Guire, Norfolk and Warwickshire, UK {current}
Pilot study looking at the effect that Flocked Saddle and Fully Flaired Saddle has on the Equine Gait, Russell Guire and Sue Carson {Published Your Horse Live 2010}
The effect that varying water heights has on back kinematics whilst on the Aqua treadmill, Russell Guire, Monica Koole, Holland {current)
A pilot study looking at the effect that current mounting techniques has on the equine back, Russell Guire, Mark Fisher, Liz Leggate and Society of Master Saddlers, Centaur Training and Livery Centre, Warwickshire {Published Your Horse Magazine 2010)
The effect of hind shoes versus no shoes, Sophie Whittle and Russell Guire , Warwickshire College, UK {completed}
The difference in carpal joint angle when jumping an upright compared to an oxer, Amy Young and Russell Guire, Hartpury College, UK. {completed}
The effect that the rider has on the equine carpal and fetlock angle whilst jumping, Una Browne, Jeanette Brakewell and Russell Guire, Warwickshire College, UK. {completed}
Repeatability in the utilisation of gait analysis, Luke Poole and Russell Guire, Edinburgh University and World Horse Welfare. {completed}
The effect of different saddles on hind limb movement, Sue Carson, Society of Master Saddlers and Russell Guire, Radway, Warwickshire, UK. {completed}
The effect of Quantum Saddles on hind limb movement, Russell Guire, Warwickshire, UK. {completed}
The difference in tarsal angle when completing roads and tracks versus no roads and tracks, Lizzie Rapkin, Debbie Nash and Russell Guire, Aberystwyth University, Aberystwyth, {Published ICEP 2010}
Difference between joint angles when trotting on a hard surface versus a gel track, Paul Malone and Russell Guire, Unicorn Trust, UK. {Published ICEP 2010}