Centaur Biomechanics - Equine Movement Symmetry Assessment (EMSA)
EMSA, also known as gait analysis, allows you to quantify your horse's movement, identifying any movement asymmetries which, if left undetected could lead to a loss of performance or increased risk of injury. Like us, horses are asymmetric, however understanding these asymmetries is essential in an attempt to improving equine health and performance.
Centaur Biomechanics uses multiple measuring systems to quantify the horse's movement.
Sensor Based Movement Analysis - £75.00
Using a validated sensor-based system to quantify the horse's gait, using 5 sensors positioned on the horse's pelvis, withers and poll, the horse is trotted in hand and lunged on both the left and right rein. The data is processed onsite and the reports are available to view immediately. After the assessment a written summary along with the symmetry reports are emailed to the client.
Sensor Based Movement Analysis Assessments can be performed on site and Centaur Biomechanics offer discounts on "Equine Movement Symmetry Assessment" clinics. Book 7 or more assessments andget 10% off!

2D Motion Capture - £150.00
This system allows the quantification of specific joint movement. Using multiple markers located at anatomical locations, the degree at which the horse flexes and extends its joint can be quantified. Horses are trotted in hand. The data can be viewed immediately with a report being submitted 48 hours after the assessment. These sessions can be performed onsite providing there is sufficient room (14m track with a 10m distance) and a solid background which can be used to collect the data. Alternatively, owners can bring horses to the Centaur Biomechanics Training Centre.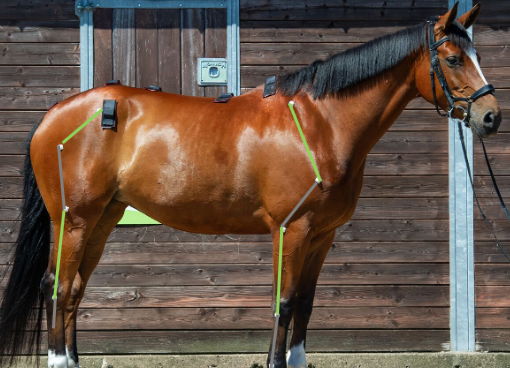 Farrier Analysis - £65.00
Using high speed cameras capturing at 400 frames per second, the horse's limb loading can be evaluated. The videos obtained can be viewed and discussed immediately. After the assessment a written summary is emailed to you. This can be performed onsite, all that is required is a flat and level area at which the data can be collected.
The user-friendly feedback and symmetry reports allow clients to share the information with their home team (veterinarian, physio, farrier, coach etc). On request Centaur Biomechanics offers the facility for a conference call with your home team to discuss the findings. Furthermore, all of the data is stored on a secure Centaur server allowing us to compare findings from the initial assessment with follow up assessments – this is advantageous when determining how the horse's symmetry has changed over time.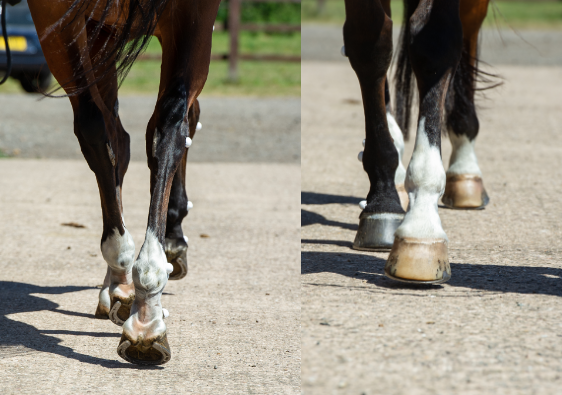 Sesnor Based Movement Assesments and Farrier Analysis - £110.00
Combined offer
To Book:
Equine Movement Symmetry Assessment Clinics can be booked via Sharon@centaurbiomechanics.co.uk – assessments take a maximum of one hour which include collecting of the data, analysis and discussion.
Individual assessments can be booked at Centaur Biomechanics Training Centre, Moreton Morrell.

All assessments are performed by Dr. Russell MacKechnie-Guire.
Founder of Centaur Biomechanics
Provider of biomechanical analysis to four National Federations, High Performance teams
Published over thirty-five peer reviewed scientific papers on horse-saddle-rider interaction
Written almost 100 articles on horse and rider biomechanics
Featured on the BBC, FEI TV and Radio
BSc honours Degree in Equine and Human Sports Science and PhD in biomechanics (horse & rider)
Sought after presenter, presenting his research on horse, saddle and rider interaction all over the world
Equestrian coach and rider
Fully insured, First Aid and CRB checked