Gait Analysis
Download our Gait Analysis Brochure - Click Here
Sports science and sports medicine are well-established areas within human medicine. Professional athletes in many disciplines apply a multitude of sports enhancing techniques to attain a higher level of performance and move ahead of their competitors. In addition, an ever-increasing array of technologies and treatments are available to aid diagnosis, accelerate rehabilitation and ultimately enhance performance.
A similar trend is emerging within equine sport. Individual sports organisations are looking for ways to improve competitiveness and professional bodies, such as the British Equine Veterinary Association (BEVA), are actively promoting the application of Evidenced Based Veterinary Medicine (EVBM). In addition the number of competition horses continues to grow, along with the competition for the top prizes.
Centaur Biomechanics is focused on bringing established human and equine sports products to the wider equine industry to aid diagnosis, promote health and enhance performance. Further focus will be on products and services that are non-invasive (and therefore easy-to-use and can be applied "in the field") and support EBVM.
Currently the assessment of equine locomotion and lameness is carried out visually and cannot be reliably or consistently quantified. Equine practitioners often disagree on the extent of lameness. In addition the assessment cannot easily be communicated and has very little or no historic value. The objective measurement of lameness and changes in locomotion are the missing pieces of critical information needed to make key decisions related to equine health and performance.
Quintic is a video based equine gait analysis system which has been developed in partnership with leading human biomechanics specialists. The system has been developed to address the need for lameness diagnosis, treatment monitoring and performance enhancement. It is currently being utilised within the elite sport of dressage as a method of objectively analysing equine gait as a performance enhancing technique. The application of the system is not limited to dressage, providing similar benefits for performance horses in general.
Benefits of Gait Analysis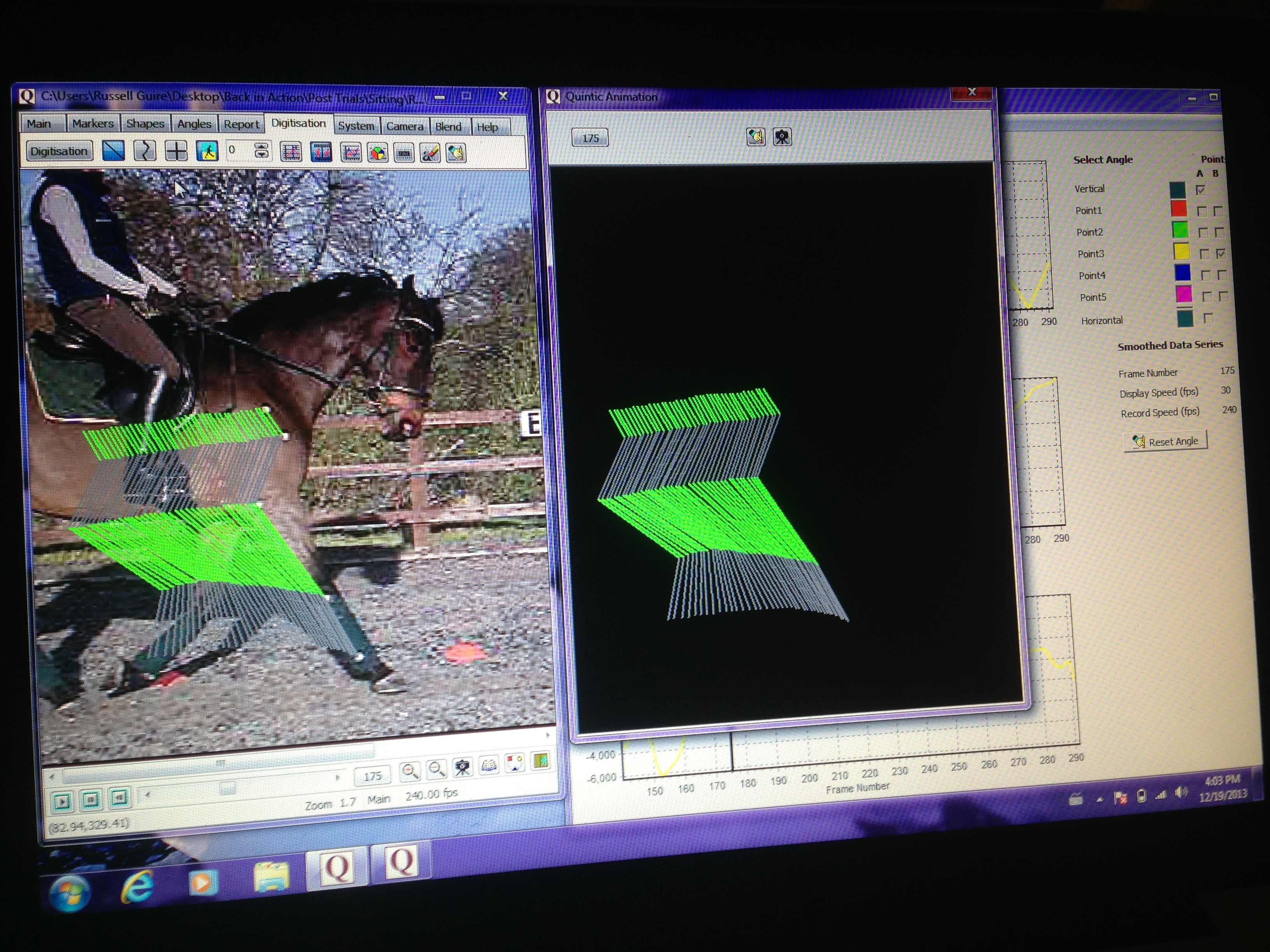 To date Centaur Biomechanics has assessed several thousand horses, ranging from riding club to Olympic level alongside research studies. Equestrian Team GB used biomechanics as part of their management programme in the run up to London 2012. In previous years it has been seen that biomechanical testing was only available to those elite horses and riders competing at a high level. However, biomechanical analysis has advantages from which all sectors of the equine industry can benefit. Equal to performance is use in injury prevention and maintenance. Biomechanical testing has been used widely as part of a lameness prevention programme.
In addition as the number of sport horses continues to grow, along with the competition for the top prizes, it is becoming more apparent that the prevention of injury to sports horses is a fundamental factor in maintaining and improving performance. This trend is highlighted by the aforementioned inclusion of biomechanical testing to team horses in the run up to London 2012.
In conclusion, biomechanics is extremely useful for elite horses and riders trying to make those subtle adjustments which can help performance. Alongside the elite level, biomechanics has an equally important role for any horse where the management and prevention of injury, two key areas in maintaining performance and well-being, are considered of high priority by the owner.
Applications
Blue Print or Baseline:
Horses should be assessed when perceived sound as unfortunately in equine science we are short of a blue print for the "normal gait pattern" specific to each horse. From an initial screening, any asymmetries which may have a detrimental effect to the horse going forward can be evaluated and where necessary supported with complementary medicine to then produce a proven Baseline or Blue Print for the normal gait of that horse. In addition, with baseline information, regular screenings can be compared to the blue print to note any improvements, changes or tendencies which may occur over time.
Farrier Analysis:
Farrier analysis is one of Centaur Biomechanics most popular services. The way in which a horse loads his hoof is vital in maintaining soundness and performance. Similar to when an individual buys a pair of shoes, the fit and comfort is vital to ensure that the individual does not end up with blisters and bruising. A horse is similar, the way in which the limb is loaded can have an affect on the rate of injury, therefore it is important to evaluate hoof/limb loading.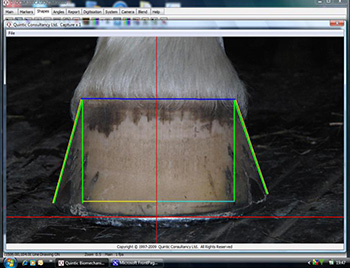 Farrier analysis is not designed to replace your farrier or instruct your farrier what to do, it is to be used as a tool to facilitate the shoeing of the horse and to provide valuable images for the acting farrier. Farrier analysis consists of anterior and posterior assessments using High Speed Cameras, then, with the use of Quintic software, the captured images can be slowed down and assessed to identify key points such as first point of contact, break over, limb orientation, point of take off, secondary loading, all of which are important factors when evaluating hoof loading.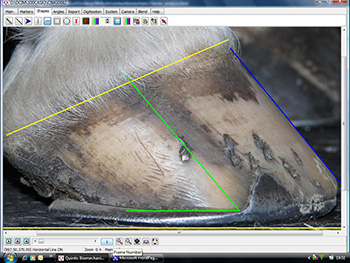 Farrier analysis works best when the acting farrier is present, as pre and post assessments can be carried out to compare before and after shoeing to note any significant changes/improvements. In the absence of the acting farrier, Centaur Biomechanics will discuss all findings and send or post all files to the acting farrier for analysis within 24 hours. Centaur Biomechanics provides continued support throughout the shoeing process to both the client and the acting farrier. Centaur Biomechanics also works with Vets and farriers in tracking changes/improvements when remedial farriery is required.
Injury Prevention: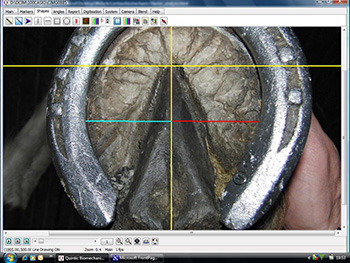 Science has shown that horses have specific gait characteristics when lame and demonstrate certain characteristics pre-injury. These characteristics can be seen using high speed cameras and subtle changes which occur within the gait- leading possibly to injury- can be identified. The aim of biomechanical assessments is to identify these changes before they progress in to injury. Early identification can allow rapid investigation into the potential problem, allowing for adjustments in management /routine to decelerate or negate the propensity for injury.
Performance Enhancement:
Biomechanics, as part of the sports science umbrella within the equine field, is becoming widely used as a way of making small adjustments which can help improve movement or support the horse's joints to help prevent injury. For example, changing the width of the shoe by 5 mm can improve carpal flexion of the horse by 15 degrees. In addition ensuring the foot is balanced can provide a horse with an extra 5% in power production compared to a horse which lands laterally.
Understanding: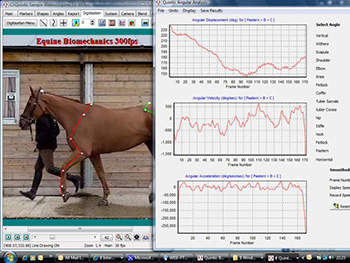 Unlike most investigations with horses, the output of biomechanics is simple, quantified and accurate. Biomechanical analysis reduces the inherent risk of subjectivity which is a key in equine assessments. The data, and therefore results produced, are accurate and reliable and resemble exactly how much a joint is flexing or extending. This information gives the owner a much more informed picture as to what is happening with their horse's movement. Additionally it is a non-invasive and safe process.
Research:
Biomechanics is used widely within the research field, both in post graduate and under graduate research projects alongside product testing. The way an animal moves can largely be affected by the equipment used, for example, a saddle can restrict or improve hind limb movement by 15 degrees. It is vital that this easily available information is used to ensure the horse stays supple and sound.
How Gait Analysis Works
Cameras:
To ensure that subtle changes within the gait are observed, high-speed cameras are used. These cameras capture at 300HZ. To put this in to context, the human eye captures at approximately 12Hz, therefore with the use of high speed cameras is 25 times faster. The cameras are portable and work in most weather conditions. A standard 25Hz camera could be used when assessing a rider's position.
Software:
Centaur Biomechanics' preferred software choice is Quintic Biomechanics V26 with a 300Hz high-speed camera.
Procedures:
Procedures and protocols are set out by leading scientists and followed by Centaur Consultants. It is imperative that the measurements are adhered to. Consultants are regularly assessed and updated with necessary specifications for data collection to ensure that clients can be confident that the product and consultant they are investing in is sound, proven and tested. Markers are placed on the horse by manual palpation of bony anatomical landmarks identifying joint centres and segment ends. The horse is then walked and trotted along a designated track in front of the cameras. The trot strides are captured and exported to Quintic Biomechanics v26 for analysis. The in depth analysis is usually done overnight but basic measurement / assessment can be produced on site.
Reports and Data Output: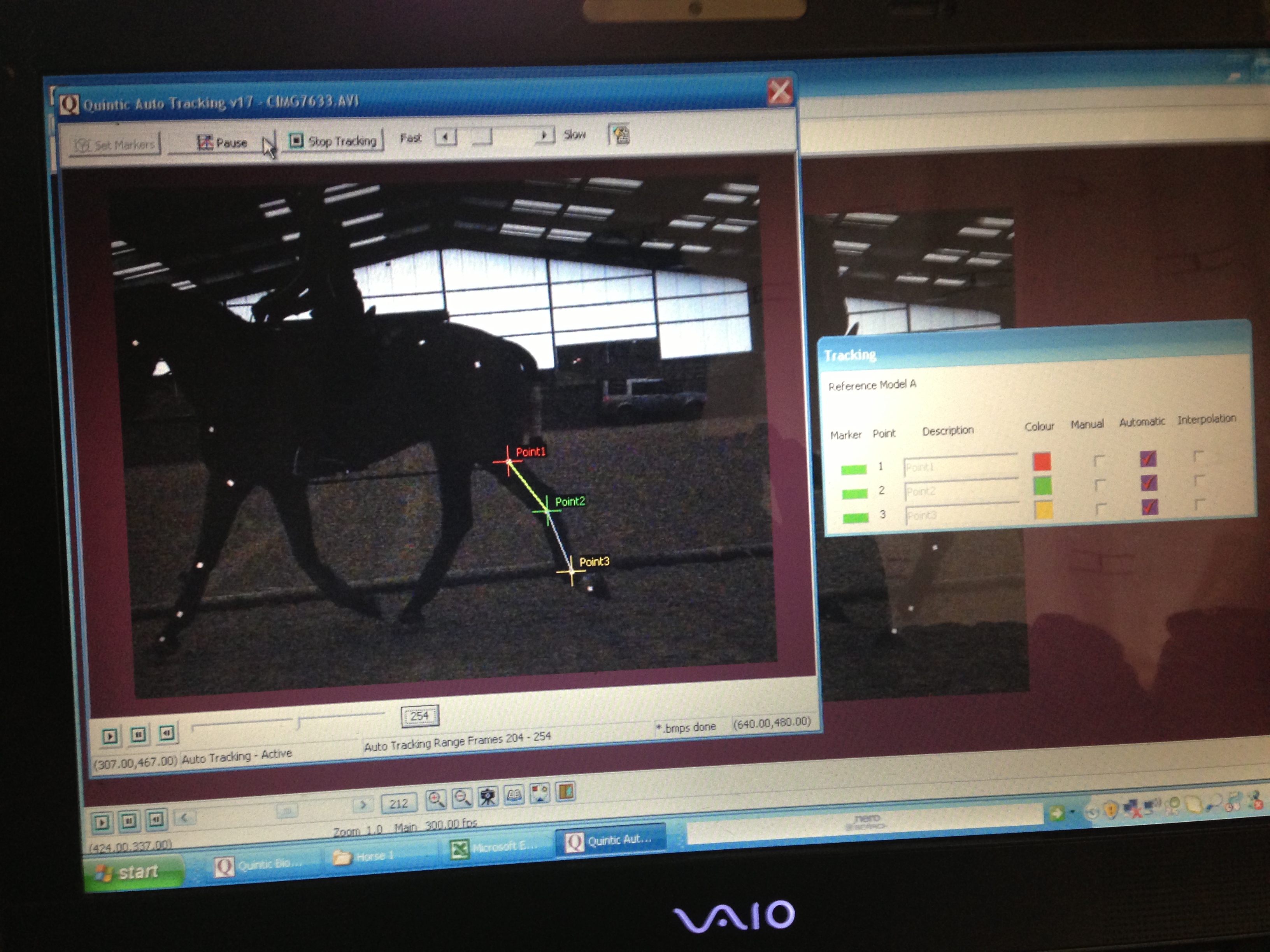 From a biomechanical assessment, you, as the owner, own the information. From this information you are equipped with accurate biomechanical information which relates to your horse's movement, joint motion, acceleration and velocity. A multitude of measurements are taken such as stride length, stride time, velocity, carpal flexion, fetlock hyperextension, tarsal flexion and others. All of these measurements have been proven due to their reliability in determining/assessing gait abnormalities. Information is presented in a report style format - please see below for an example screening report.
Screening Procedures
Small spherical markers are placed on the horse's skin, they are located by manual palpation of anatomical landmarks, which identify joint centres, similar to the human, if you were to flex and palpate the elbow joint you would clearly be able to feel the segment end of the fore arm. Repeatability studies have been carried out on marker placement and the findings suggest that there is a high degree of accuracy providing the same person places the markers on the horse at a given time. The markers are placed on the horse's skin by using double sided sticky tape or toupe tape, which work well in most conditions. When galloping, we may decide to use hair extension glue, which is harmless to the horse and is removed after testing by using hair extension glue removal.
Screenings can be done on site at most locations, the main specification is that there is a hard level track of approximately 14 metres (M) with two clear endings. The clear endings are vitally important as this may change the gait pattern of the horse when he is trotting towards the wall at one end. The trotting track must be wide enough to allow the horse to move comfortably, however, an additional width of 10m is required in order to place the High Speed Camera sufficiently, allowing the required number of strides to be captured. This area does not need to be the same surface as the trotting track, however, does need to be on the same level as the track in which the horse is travelling on.
So as not to obscure the images it is essential that the handler leads the horse on the "off side" when passing left to right. As a means of overcoming the resistance, the horse will be walked along the designated track several times this is to acclimatise the horse to being led from the "off side" and also to acclimatise the horse to the surrounding area. By doing this it helps reduces the variables which could cause anomaly results. Once the horse is acclimatised the testing will take place, the horse will then be trotted along the track approximately 7 times, enabling seven passes to the left and seven passes to the right. This gives us an adequate sample in which average data can be extracted. In lame horses only walk data is extracted and a maximum number of 3 trials left and right are obtained. The primary reason for this is that lame horses adopt a pattern which is more consistent to minimise pain, whereas sound horses' gait pattern is less consistent, hence the need for increased number of trials.
The screening usually takes approximately 45 minutes including marking up of the horse. Once the screening is complete, the system is calibrated vertically and horizontally and the data is taken away and a report produced. Preliminary analysis and measurements such as foot fall sequence, limb loading, limb protraction and retraction angles, step length, stride length, stance time and HeadEXQ and Tube EXQ can be given on site. However, for a comprehensive report please allow 24 hours from screening date.