2019 Equine Sports Science Seminar
with
Sharon May-Davis
Saturday 19 October 2019
Hartpury College, Gloucester, UK
£115.00 includes course pack and CPD certificates
Please click to see our cancellation policy
FULL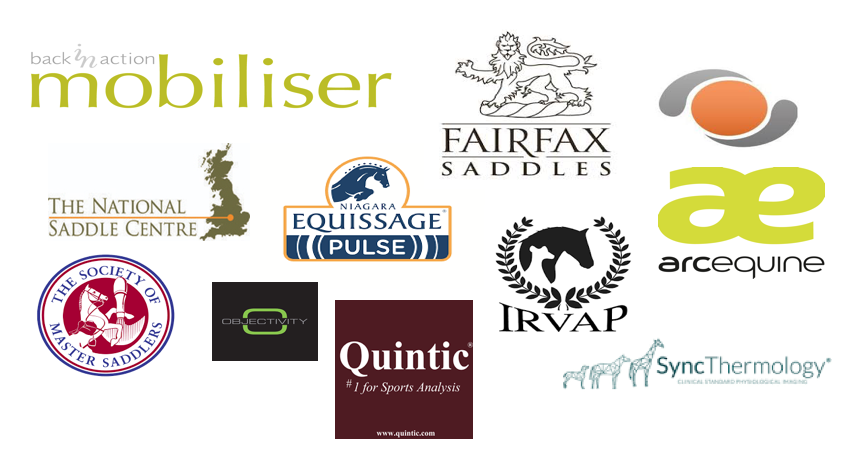 Our annual equine sports science seminar facilitates the sharing of some of the latest evidence and research currently within equine sports science and medicine. This seminar provides some of the latest thinking and approaches associated with the management of the horse from a veterinary, therapy and performance perspective. Previously, the seminar has welcomed world-leading researchers Prof. Renate Weller, Dr Richard Coombes, Prof Hilary Clayton, Prof. Lars Roepstorff and Dr Rachel Murray and has attracted delegates from all over the world. This year's seminar welcomes international renowned researcher and anatomist, Sharon May-Davis.
This year's seminar is of interest to veterinarians, therapists, farriers, horse owners and those who are interested in furthering their knowledge, equipping themselves with some of the latest research in order to optimise best practice.
Sharon May-Davis
PhD c/s, M. App. Sc., B. App. Sc., ACHM., EBW., EMR.
Affiliation: University of New England; Keith and Dorothy MacKay Scholarship; RTS Australian Government Scholarship.
Sharon has been around horses in one form or another since she was 3, now some 55 years later she has travelled the World reporting on anatomic anomalies, primitive traits and rehabilitation. Initially starting from a Thoroughbred industry and riding background, Sharon has worked with horses at a competitive level since she was 14. Now she lectures worldwide on controversial topics such as the 'Congenital Malformations of C6, C7 and the 1st Sternal Rib', 'The Dilemma of the Absent Lamellae' and 'Primitive Preservation'. Her drive and passion have seen many scientific papers published in recognised journals as either the sole author, lead author or 2nd author. At present, Sharon has been collecting and publishing data on 'Primitive Horses" in an effort to understand modern equine anatomy and how best to manage its structures for performance and longevity.
Sharon will be speaking on the below topics;
The Dilemma of the Absent Equine Nuchal Ligament Lamellae
Variable Feeding Positions - it's all about perspective
A Pain in the Neck - congenital malformations of the 6th and 7th cervical vertebrae, clinical symptoms and how it influences the horse's performance
Femoral Asymmetry in Racehorses and the Influence on the Hip and Stifle Apparatus
Comparative Anatomy between Primitive and Domesticates – the disappearing structure
In addition, Russell MacKechnie-Guire will be presenting his findings from his five year PhD research looking at the interaction between the horse-saddle and rider.
Relationship Between Saddle and Rider Kinematics, Horse Locomotion, and Thoracolumbar Pressures in Sound Sports Horses
Is Rug Slip an Indication of Hind limb Asymmetry? The Phenomena Discussed
It is going to be an informative day discussing some of the latest research which can be applied to your everyday practice.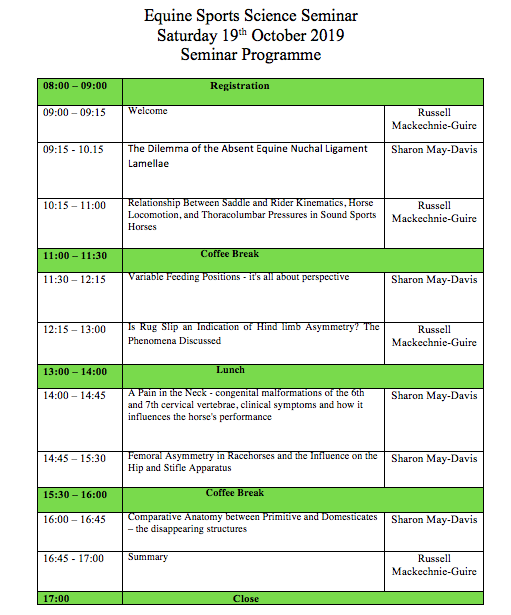 Images from our 2017 Equine Sports Science Seminar